Roof windows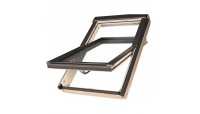 The FAKRO roof windows are designed to make your dream home not only comfortable but an indulgent experience as well.
The ideal loft can be:
Modern - Functional - Safe
The number of roof windows, dimensions, position and their equipment is decisive for the environment of a loft .Τhe possibility of natural ventilation and lighting indoors as well as energy windows, follow the requirements of bioclimatic design of buildings.
Finally the selected aesthetic and safety materials in combination with the wide variety of sizes and designs make the FAKRO roof windows  the ultimate modern building element.