Roof windows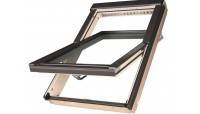 Ahead of their time!
FAKRO for more than twenty years has demonstrated its commitment to produce innovative high quality products.
FAKRO continues to design products according to the highest industry standards. In fact consistently brought the future today. FAKRO roof windows are designed to be comfortable and easy to use, but also to stand for style and functionality.
Our confidence in FAKRO products is such that makes us to offer long-term performance guarantees.
Roof windows

The FAKRO roof windows are designed to make your dream home not only comfortable but an indulgent experience as well.

The ideal loft can be:

Modern - Functional - Safe

The number of roof windows, dimensions, position and their equipment is decisive for the environment of a loft .Τhe possibility of natural ventilation and lighting indoors as well as energy windows, follow the requirements of bioclimatic design of buildings.

Finally the selected aesthetic and safety materials in combination with the wide variety of sizes and designs make the FAKRO roof windows  the ultimate modern building element.

Roof skylights

Get from smart home skylights for all new or existing sloped roofs. We offer high quality roof skylights single- and double glazing.

Folding roof stairs

Wooden folding roof ladders for attics, in excellent quality, in different sizes, which can be found in smart home.

The ergonomic design, ease of use and installation make the roof stairs of smart home ideal for your attics.
There are no products in this category